our residential cleaning services.
Choose from EuroClean's Standard or Deep Clean services and spend your newfound free time re-energizing and melting away stress. It's a renewal for you and your home in the Columbus or Cincinnati area! Many occasions in life call for a fresh start — kids going away to college, a divorce, or a move. Whatever the reason, EuroClean can give you a new, clean beginning. Contact us today for a free consultation!

Our Standard Clean option keeps your home free of everyday clutter and dirt so that you can enjoy a refreshing space.

Our Deep Clean option follows an intensive process that transforms your space into a tidy sanctuary.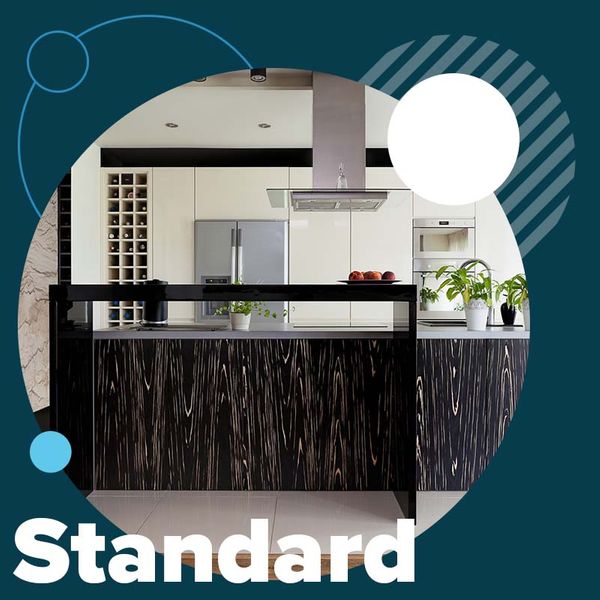 Kitchen Standard Clean Services
Retreat to a sparkling clean kitchen! EuroClean will revitalize your space, allowing you to unwind and entertain, stress-free! The kitchen is the heart of the home, where family and friends linger to eat, talk, and enjoy each other's company. It's the place to quench your appetite and nourish your relationships.
So indulge, and treat yourself to a clean kitchen! Our team of experienced residential house cleaners will rejuvenate your space — from the inside of the microwave to the top of the fridge. We'll do the polishing and dusting, allowing you time to reward yourself with nourishing food and the people you cherish.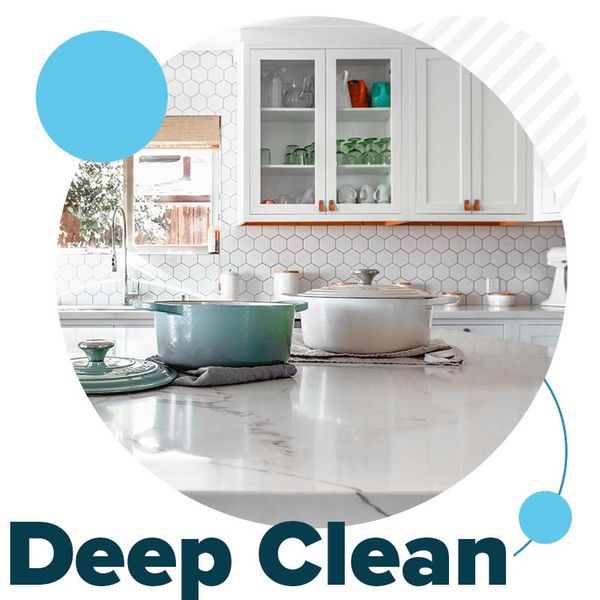 Kitchen Deep Clean Services
Looking for a more thorough cleaning service for your home? Our Deep Clean service includes washing and cleaning the following within your kitchen:
Countertops
Outside of Range Hood
Top & Front of Range
Drip Pans/Glass Top Surfaces Wiped
Sinks Cleaned & Chrome Shined
Fronts of Appliances Cleaned & Shined
Top of Refrigerator
Microwave
Lampshades
Floors
General Dusting
Cabinet Fronts Washed
Dusting Baseboards
Blinds Dusted On a Rotating Basis
Interior of the Oven and Refrigerator (Available Upon Request)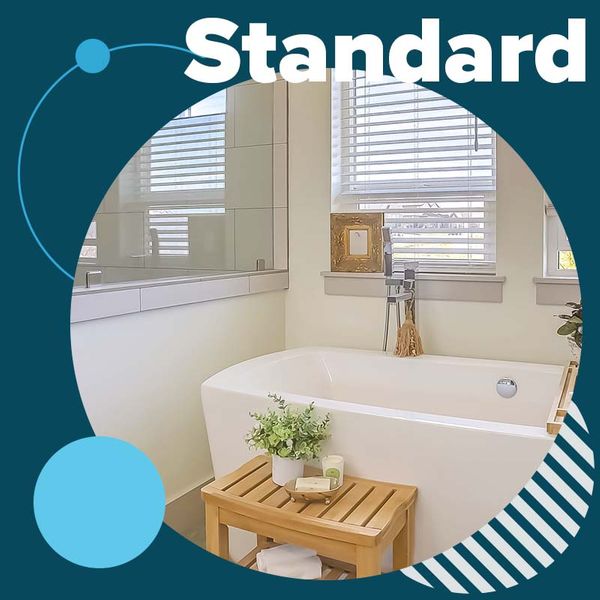 Bathroom Standard Clean Services
The bathroom is one of the hardest working rooms of your home. It's where you go to cleanse, soak, and de-stress. But, if it's dirty, how clean can you get?
Our team of residential house cleaners will scrub this bathing space back to a zen-like state. We'll get rid of the grime and enhance the soothing powers this room has to offer. We will create the perfect oasis for you to light some candles and indulge yourself.
Bathroom Deep Clean Services
Sometimes the bathroom requires a little more elbow grease to get things sparkling once again. Our Deep Clean services for the bathroom include scrubbing and cleaning the following until they shine like new:
Tile Grout
Tile Walls, Bathtubs, Showerheads & Doors
Vanity & Sink
Mirrors
Chrome Fixtures Polished
Toilets Cleaned Inside & Out
Wiping Cabinet Fronts
Washing Baseboards
Doors and Frames
Blinds Dusted
Floors (Hand-Washed)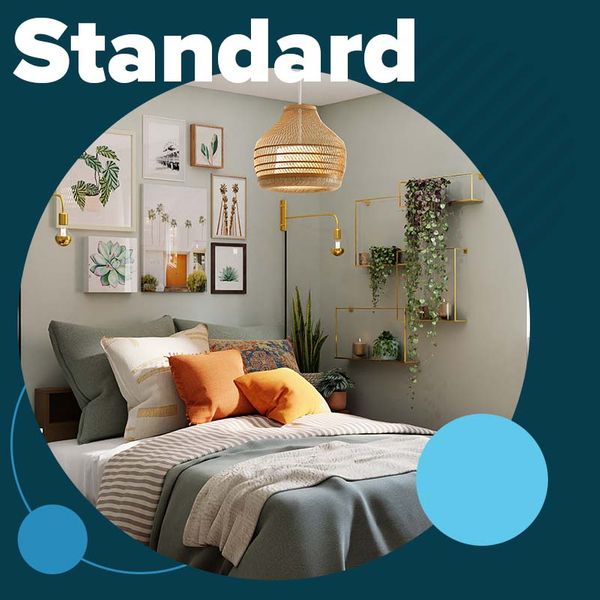 Bedroom Standard Clean Services
The bedroom is an escape to relax, re-energize, and refresh. It's where great days both start and end. However, the dust bunnies under the bed don't need to be a part of it.
Our expert residential house cleaners will make sure your bedroom is a restful and dust-free haven, from floor to ceiling. Plus, we guarantee that our team will clean your treasured belongings with care and respect. We will create a luxurious space you dream about slipping away to at the end of each day.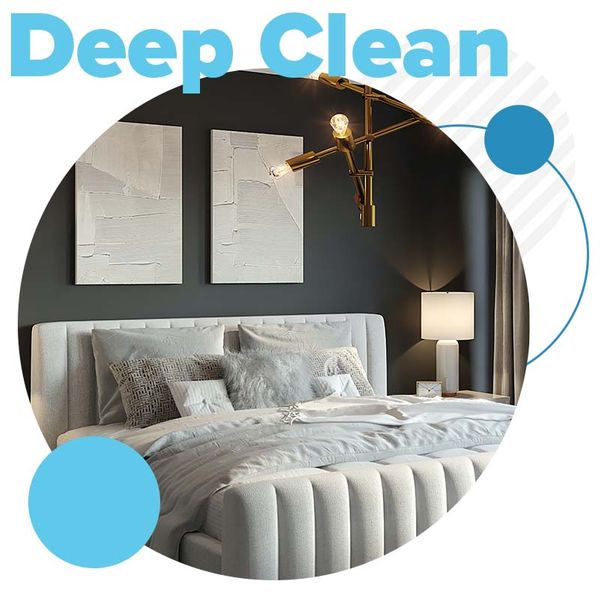 Bedroom Deep Clean Services
Our team of residential house cleaners understands that sometimes the bedroom needs a little more than just a standard cleaning. That's why we offer our Deep Clean services for an even more refreshed space. This option includes the following services:
Dusting:
Ceiling Fans
Baseboards
Doors and Frames
Window Sills
Dressers
Side Tables
Lamps
All Decorative Items and Electronics
Air Duct Vents
Vacuuming:
Lampshades
Carpets
Walk-In Closets
living areas and hallways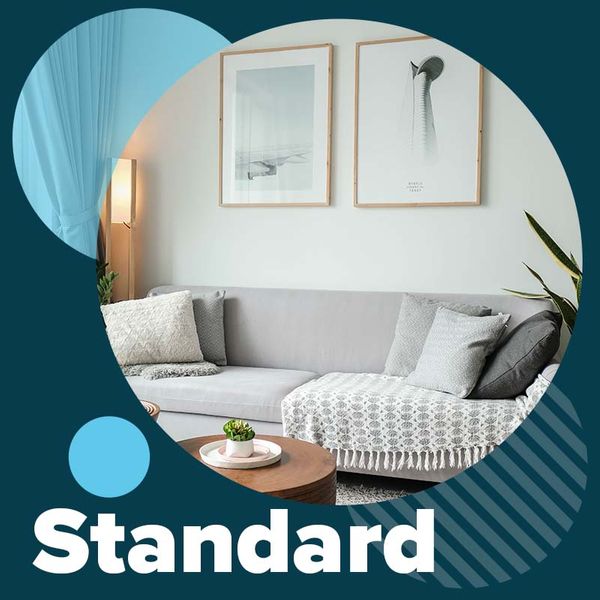 Standard Clean Services
Family rooms and dens are where you gather, eat, and play. These rooms are for strengthening family ties and building memories. Let us worry about the crumbs under the couch.
Our detailed residential house cleaners will make your family time brighter with dust-free blinds and sparkling windows. We'll keep the focus on your family rather than the room you are in.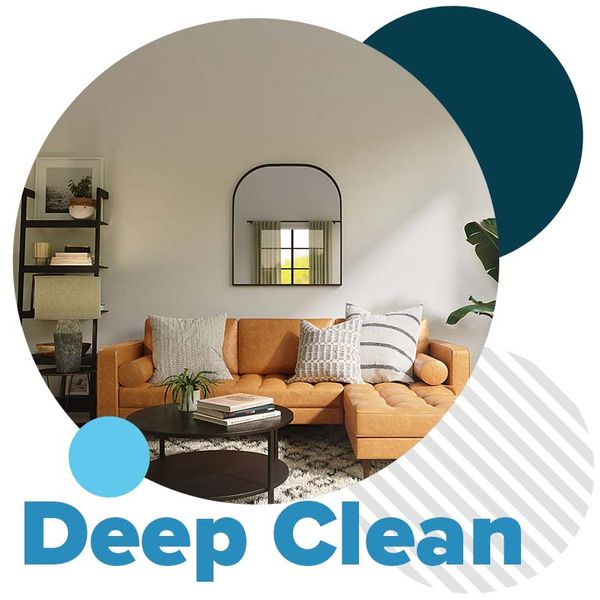 Deep Clean Services
When these living areas need a little more attention, our residential house cleaners will go above and beyond to get your home back in tip-top shape. This includes scrubbing and cleaning all the following:
Baseboards
Blinds on a rotating basis
Doors on a rotating basis
All furniture
All decorative items and electronics
Air duct vents
Vacuuming:
Lampshades
Carpets
Air duct vents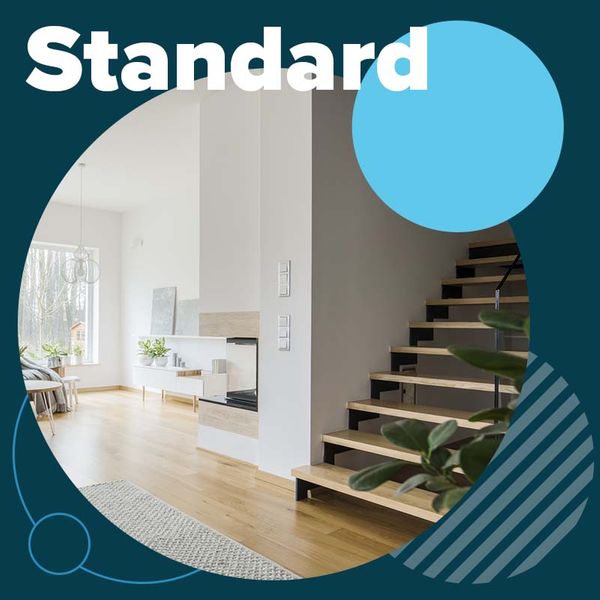 Standard Clean Services
Greet your guests with a warm welcome instead of a pile of shoes. Our residential house cleaners will work their magic on your stairs and entryways. We'll banish the dirt and grime so you can make a great first impression.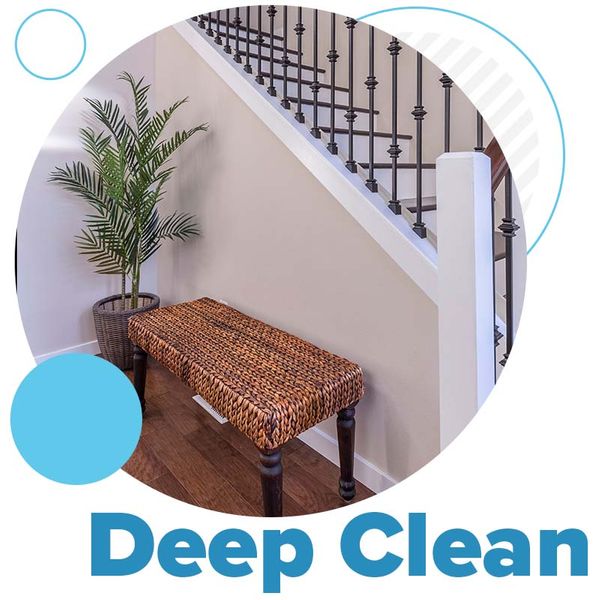 Deep Clean Services
For those extra special occasions or when these areas just need some extra love, our residential house cleaners are here to help. Our Deep Clean services for stairs and entryways include:
All Woodwork Dusted
Glass in Doorways Washed
Rugs Rolled Up, Washed Under, and Replaced When the Floor Is Dry

All of our cleaning services include both standard and deep cleaning. To learn more and to schedule an appointment, reach out to our team in Cincinnati today!

Choose Euroclean for Your Residential Cleaning
We also offer interior window cleaning upon request! No matter which residential cleaning services you choose, our team of professional residential house cleaners will leave your home sparkling. At EuroClean, we are dedicated to providing top-quality service and customer satisfaction to residents of Columbus and Cincinnati. Schedule a free estimate today!